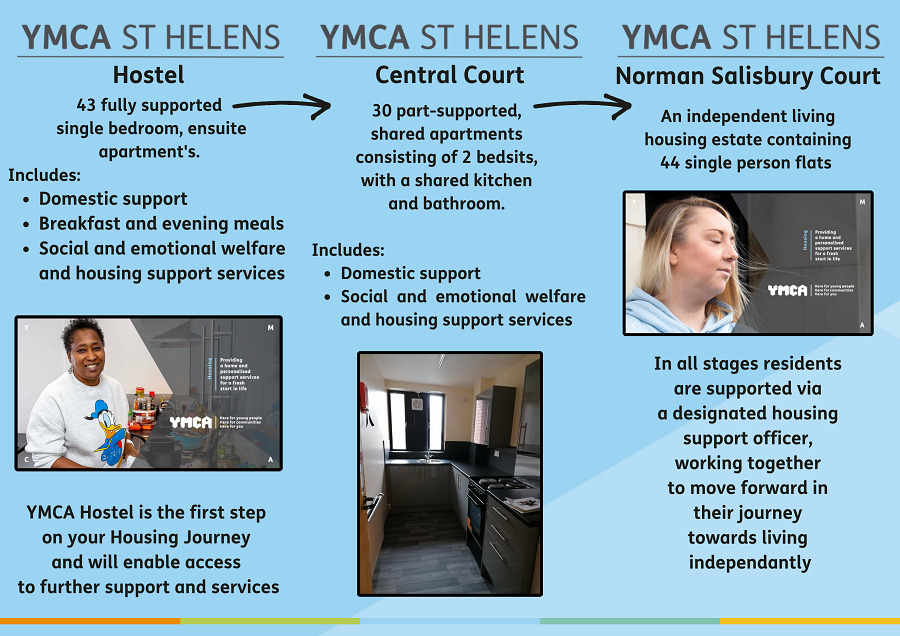 In our main building on the corner of Duke Street and North Road we offer a fully supported hostel for single homeless people between the ages of 18 and 55 years.
The Hostel
The hostel provides 46 single bedrooms with en-suite facilities. Cleaning services are included with bed linens being provided and changed weekly. Included in the support package are regular meals: breakfast and evening meals which are served in the dining room.
Central Court
Central Court is our second step accommodation situated on North Road, next to the Main Building, offering 30 shared units each containing two bedsits, one kitchen and one bathroom. This accommodation has two units designed to accommodate wheelchair users.
Primarily Central Court is accessed through the Hostel although exceptions are made for those who have been living independently, who are now homeless or in danger of becoming homeless.   In this accommodation clients are required to be more independent and responsible – being able to budget, cook for themselves and clean the accommodation.
Staff are available and on site 24 hours per day, 365 days per year. The staff will provide you with the necessary support to access benefits, work with any external agencies you may need, support you throughout your stay with us, getting you ready for independent living and helping you find independent accommodation.
More Information
Selection Criteria:
Priority in times of high demand for the service will be given to those with a local connection to St Helens.
To live here you must be:
18 years plus.
Must be capable of basic personal care – e.g. washing and dressing self.
Have an income that is less than you need to be able to rent or buy yourself a property.
Must be able to contribute to the maintenance of balanced community within the supported accommodation, e.g. appropriately risked as suitable for living here.
You cannot live here if:
You have been convicted of a Schedule 1 offence.
Have a history or are convicted of arson related offences.
Have a recent history of violence related offences.
Have a history of abusive or racist behaviour.
How to access
Anybody wanting to access accommodation at YMCA or The Salvation Army should contact the service by phone: YMCA 01744 455030 between 9.00 – 12.30 or TSA 01744 744800 between 12.30 – 4.00 and ask to book an appointment. All assessments are completed by Phone.
Independent Living
YMCA St Helens has Norman Salisbury Court, an estate of 44 single person flats on the corner of Crab Street and North Road.