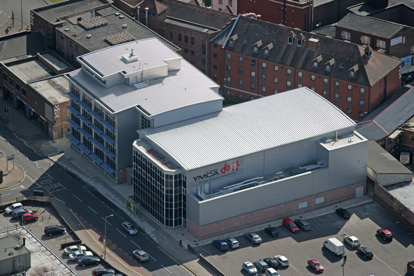 YMCA St Helens at the Beacon is committed to partnership working, and believe that improved outcomes for young people in St Helens will be achieved through this joint approach to supporting young people in the borough.
Key quality of life components are offered by the scheme:
A "one stop" centre offering a range of services.
A purpose built childcare facility offering a first class service for up to 64 children from the ages of 3 months to 5 year olds.
Training and development suites to help people into employment.
Sports, leisure and cultural facility.
Children from 3 months to 5 years and older age groups enjoy fantastic state of the art facilities and responsive youth support services, improving the life chances of young people and their families in St Helens. The Beacon is also offers wide ranging community access for all, with employment opportunities for all ages.
The Beacon has rooms available for hosting a range of functions from 50+ seat theatre style meetings, individually tailored suites for conferences, down to one to one private meeting rooms.
The spacious, fully equipped sports hall is also available for hire for Football, basketball, badminton and a range of other activities throughout the year.
Room Hire At The Beacon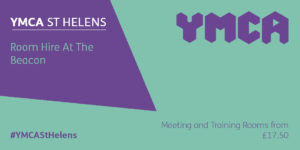 YMCA St Helens has 2 fantastic meeting room spaces available to hire at The Beacon in the centre of St Helens.
Room 1 and Room 2 can be hired by the hour in 3 hour blocks or by the day:
£30 per hour
£60 3 hours
£100 full day (plus VAT)
Tea and Coffee  – £8.50 (plus VAT) per flask
Flip chart, pens and pad £5.00 (no VAT)
Projector Screen and Projector are available at no extra cost
Get in touch to discuss your meeting room requirements and we will be happy to help:
Beacon.Reception@sthelensymca.org.uk 
01744 455046
Beacon Opening Hours
Mon/Thur 7.15am – 9.00pm
Fri 7.15am – 8.00pm
Closed at Weekends