Wonderful news for young people in St Helens. supported by YMCA St Helens 
YMCA St Helens has been awarded a life-changing Youth Investment Fund grant to extend our youth service offer to young people across St Helens.
The Department for Culture, Media and Sport and Social Investment Business have announced that our service is one of 44 youth projects across England that have been awarded a Youth Investment Fund grant to transform and level up opportunities for young people in England.
The funding will enable youth services to transform health, wellbeing, skills, and opportunities for young people. It is a ground-breaking opportunity to prioritise the needs of young people and for youth services to develop and deliver the life-changing services they need and to create a more equal society for future generations.
Our Youth Investment Fund grant of £1,472,851 will transform our service and means that we will be able to reach another 296 young people per week when we open our doors.
Our new service will develop a safe space for young people aged 12-18, designed to be small, friendly and accessible to all with activities developed so that young people who (for various reasons) may feel unable to access larger venues, fell able to take part, and belong – and ultimately take the lead in shaping their venue. The project was designed together with young people who have been supported by The Listening Service (Part of YMCA St Helens), a service providing a mixture of one to one and group work support to young people with mental health concerns, and a youth activities steering group is continuing this, with the aim of the hub being a place with young people taking the lead wherever possible.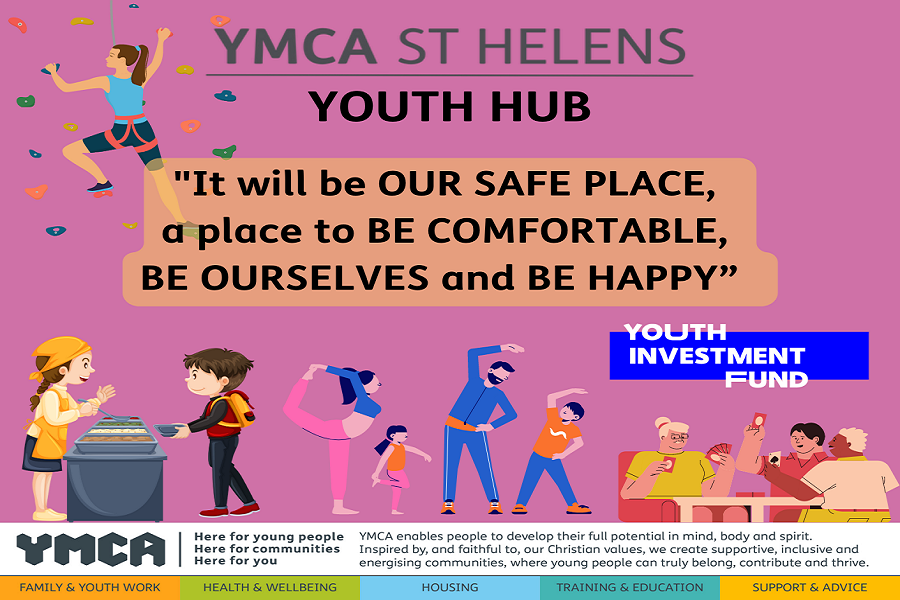 Culture Secretary Lucy Frazer said: 
"I want every young person to have the opportunity to access the kinds of life-changing activities which expand their horizons and allow them to develop vital life skills."
"These next 44 youth centres will give 12,000 more young people the opportunity to access these activities, building on the first tranche of Youth Investment Fund investment that is seeing new projects like the Alt Valley Communiversity opening in Liverpool."
"We will make sure every young person has someone to talk to, something to do, somewhere to go."
Nick Temple, CEO for Social Investment Business, that leads the delivery partnership said: 
"The Youth Investment Fund is all about prioritising the needs of young people in England and creating a more equal society for future generations. It is wonderful to see how the fund is already transforming young people's opportunities to experience the joy of local youth services designed for, and by, young people. Today's announcement means another 12,000 young people can access quality, sustainable and accessible youth clubs."
Welcoming the Youth Investment Fund grant, Justin Hill (CEO of YMCA St Helens) said:
"This is an important step forward for the young people of St Helens, giving them a safe place to build friendships, take part in fulfilling activities, and get support when they need it. We are excited to be given the opportunity to transform part of our building, and offer a much needed Youth Hub aimed at helping young people reach their full potential."
Ruby (a 16-year-old who has been involved in developing the youth hub) said:
"The Youth Hub is very needed, in St Helens young people don't have much to do, and mental health and things are really bad, so I think having a space and environment where you can meet people your age, and like minded people, will be really good. It will give us our safe space, a place where we can be comfortable, be ourselves and be happy."
The Youth Investment Fund forms part of the Government's 'National Youth Guarantee' to ensure every young person across England will have access to regular out of school activities, adventures away from home and opportunities to volunteer. The Youth Investment Fund, of over £300 million, is funded by the Department for Culture, Media and Sport and delivered by Social Investment Business in partnership with National Youth Agency, Resonance, and the Key Fund.
The Youth Investment Fund has been developed to create, expand, and improve local youth facilities and their services in the out of school youth sector, to drive positive outcomes for young people, including improved mental and physical wellbeing, and skills for life and work.
Over the next three years the Youth Investment Fund will fund the building or renovation of 300 youth services and will increase the number of regular positive activities undertaken by young people in the targeted areas by 45,000 per year, by 2026/27.